Nutribullet 600 Series Review- Saving you a lot of research time:)
Product: Nutribullet 600 series 12 pieces -white, but also available in black and red
Price: £ 86,49 on Amazon 
Power: 600-watt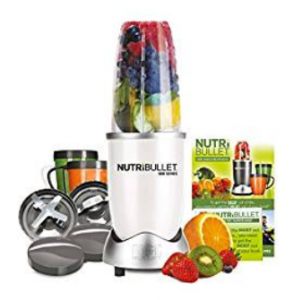 motor
Capacity Tall cup: 680 ml
Capacity Small cup: 511 ml
Item weight: 3.1 kg
Nutribullet 600 series product overview
Love Love Love the Nutribullet?
This machine is so easy to use! No complicated buttons, just very simple. Click the cup onto the standard, turn it a little bit to the right for a few seconds and there she goes. In just a few seconds you will have a great beautiful delicious smoothie!
I use this smoothie machine every morning for my green vegetable smoothie and I'm not turning back, the simplicity of this machine is just amazing.
So let me now walk you through some of my personal favorite aspects of the Nutribullet 600 series.
Quick and easy to use:
Already said it in the overview but again it's so easy to use. Once you will receive the product, the only thing you need to do is add some vegetables, some fruit, some honey if you want and add a little bit of water or milk to it. Screw the grinder lid onto the cup, click it on the Nutribullet and turn it to the right for a few seconds and there you have it, whatever you were blending, it's done!
Nothing stands a chance against the 600-watt motor crusher as it crushes everything to a smooth texture which you can drink straight away, how simple is that.
Easy to clean:
If you have a dishwasher, just give it a quick rinse and pop it in the dishwasher.
If you don't have a dishwasher don't worry it's very easy to clean just rinse it off and the most of it will be gone in seconds.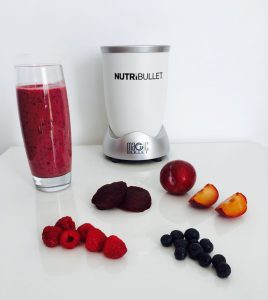 ---
Easy to bring with you wherever you go: 
With this Nutribullet you will get 2 smaller cups as well with handy caps you can screw on, so you can bring smoothies, juices or lunches like soups or other liquids easy to work without any concern that everything will pour into your bag.
Compact design:
With its slim and modern look, this baby fits in every kitchen.
Amazon warranty:
For only £ 17 extra you will get the Amazon Protect -3 years Breakdown and & Accident Cover and for £ 20 extra you will get this for 4 years but this is not a must.
Conclusion:
Love the Nutri Bullet! I am using this machine now since December 2016 and I can definitely say that this machine is so easy to use which is so helpful in this fast-paced busy world.
If you would like to have a quick, ready to use blender, which you can use for a very long time: This is the one baby?
I hope you enjoyed this review and if you have any questions about the Nutribullet or want to leave your own personal review, please leave a comment below.
Mitchell